Our Services
COSMETIC DENTISTRY
BONDING
Tooth bonding is the application of a tooth-colored resin material using adhesives and a high intensity curing light. The procedure gets its name because materials are bonded to the tooth. Bonding is typically used for cosmetic purposes to improve the appearance of a discolored or chipped tooth. It is also used to close spaces between teeth, to make teeth look longer or to change the shape or color of teeth. Often times bonding is used as a cosmetic alternative to amalgam fillings, or to protect a portion of the tooth's root that has been exposed when gums recede.
VENEERS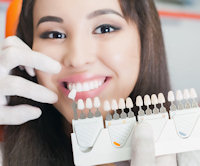 A dental veneer is a thin piece of material that can be bonded to the surface of your tooth to alter its shape or appearance. Our veneers for teeth are made with a beautiful, high quality porcelain that looks completely natural. If you've ever wanted a perfect smile, porcelain veneers can be used to accomplish your smile goals. Your cosmetic dentist at Selz Dentistry can use veneers for teeth to fix the appearance of chips, cracks, and other tooth damage. Dr. Selz can also use veneers to decrease gaps between teeth, alter a tooth's shape or length, make teeth look straighter without braces, and make teeth look whiter without whitening.
BRIDGES
A fixed dental bridge is a non-removable prosthesis that is attached to the remaining natural teeth. It functions to fill the space of missing teeth, helps uphold facial shape, prevents remaining teeth from shifting out of position, and rebuilds chewing and speaking ability.
CROWNS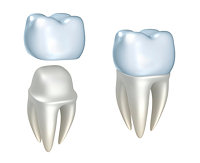 Crowns are synthetic caps, usually made of all porcelain material, placed on the top of a tooth. They are typically used to restore a tooth's function and appearance following a restorative procedure such as a root canal. When decay in a tooth has become so advanced that large portions of the tooth must be removed, crowns are often used to restore the tooth. Crowns are also used to attach bridges, cover implants,prevent further tooth fracturing, or should an existing filling be in jeopardy of becoming loose or dislocated. Crowns also serve a cosmetic use, and are applied when a discolored or stained tooth needs to be restored to its natural appearance.
RESTORING IMPLANTS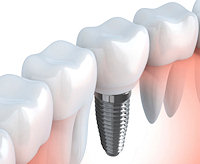 A dental implant is a natural looking artificial tooth root that is placed into your jawbone. Dental implants are extremely strong and long lasting. However, dental implants may have to be re-tightened or replaced overtime. A dental implant looks, feels and functions like a natural tooth. The process of dental implants may take up to nine months to complete. The dentist will perform surgery to mainstay the "artificial root" into or on the jawbone. Next, the gum is obtained over the implant, which must remain covered until it integrates with the bone. Afterwards, the dentist uncovers the implant and attaches an extension to the implant. Finally, the dentist makes an artificial tooth, or crown, that is joined to the implant post. We restore implants by placing a crown or a denture over them
WHITENING / BLEACHING
Tooth whitening is a cosmetic dentistry procedure that lightens teeth and helps to remove stains and discoloration. It is the most popular treatment by both men and women alike and the treatments are normally one-hour dental visits. Tooth whitening is popular because it can significantly improve the appearance of your teeth at much less cost and inconvenience than other techniques.
COMPOSITE FILLINGS
Dr. Selz will provide a composite resin, or white filling, that is durable, long lasting, and will combat the stress of the normal, everyday chewing. These are proven to be very successful and also allow you to laugh and smile without showing any silver substances in your teeth. White fillings are made from powdered glass or quartz combined with a resin base. Your dentist will simply bond the white filling in place. The filling also protects the tooth from any dramatic temperatures and can support remaining tooth structure by preventing any breaks.
---
PROSTHETICS
DENTURES
Dentures are used to replace missing teeth that can be taken out and put back into your mouth. There are generally two types of dentures available: complete dentures and partial dentures. The type that is needed can be determined by your dentist. Typically complete dentures are used to replace all teeth and partial dentures are used when you still have some of your natural teeth in place.
Dentures are employed so that patients who suffer from tooth loss because of periodontal disease (gum disease), tooth decay, or traumatic injury don't have to suffer the negative effects of not having teeth. Besides the obvious reason of eating, replacement teeth are needed so that remaining teeth do not shift and so that a sagging facial appearance does not give the impression of making one appear older than they are.
PARTIALS
A removable partial denture or bridge usually is made of replacement teeth attached to a gum-colored plastic base, which rests on a metal framework that attaches to your natural teeth. Partial dentures are used when one or more natural teeth remain in the upper or lower jaw. A fixed bridge will replace one or more teeth by placing crowns on the teeth on either side of the space and attaching artificial teeth to them. The partial denture not only fills in the spaces created by missing teeth, it prevents other teeth from changing position. They are removable and have internal attachments rather than clasps that attach to adjacent crowns for a look that is more natural-looking and comfortable.
---
PREVENTATIVE
CLEANING, X-RAYS, DEEP CLEANING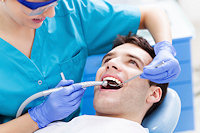 A preventive program is a cooperative effort by the patient, dentist, and dental staff to preserve the natural dentition and supporting structures by preventing the onset, progress, and recurrence of dental diseases and conditions. Preventing dental disease starts at home with good oral hygiene and a balanced diet. It is continued in the dental office by the efforts of your dentist and dental hygienist to promote, restore, and maintain your oral health. Prevention also includes regular dental exams, cleanings, and x-rays. Prevention helps avoid serious and costly dental problems and is the key to having a healthy, confident, beautiful smile.
---
EXTRACTIONS
SIMPLE & SURGICAL
There are many forms of dental treatment which can be used to save a tooth. However, there are still some situations where it is necessary to extract one or more teeth to achieve better oral health and comfort for the patient. Our friendly staff will explain the procedure to you prior to starting treatment and do everything possible to minimize the pain and the recovery time from the extraction.
---
OTHER SERVICES
MOUTHGUARDS
Mouth guards are coverings worn over teeth, and often used to protect teeth from injury from teeth grinding and during sports. There are three types of mouth guards: Custom-fitted mouth protectors are individually designed and made.
Mouth guards are also used for treating TMJ disorders and they function differently. They are always made of rigid acrylic material. Also called a splint, these mouth guards help to raise the bite and reposition the jaw in a position that helps relieve the patient of any symptoms and discomfort.
ROOT CANALS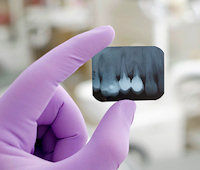 A root canal is a treatment used to save teeth that have become infected or are extremely damaged. There must still be enough tooth left to restore or another treatment such as an implant may be indicated. During a root canal procedure, the nerve and pulp are removed and the inside of the tooth is cleaned and sealed. Without treatment, the tissue surrounding the tooth will become infected and abscesses may form. Tooth pain upon chewing, prolonged sensitivity to hot and cold temperatures, or swelling and tenderness in nearby gums may indicate the need for treatment.
NITROUS OXIDE & CONCIOUS SEDATION
Nitrous oxide is a safe and effective sedative agent that is mixed with oxygen and inhaled through a small mask that fits over your nose to help you relax. Nitrous oxide, sometimes called "laughing gas," is one option to help make you more comfortable during certain procedures
Conscious sedation is a combination of medicines to help you relax (a sedative) and to block pain (an anesthetic) during a medical or dental procedure. You will probably stay awake but may not be able to speak.
---